If you are looking for Halloween makeup tips for this 2018 you've found the right place. Here we are going to show you a complete guide on how to create Halloween costumes for the most terrifying and surprising characters you've ever seen. Moreover, you will find the most incredible Halloween makeup looks for women, children and men.
Maybe it's too soon to think about Halloween but here at modaellas.com we have our mind set on Halloween. Although you might already have some sexy costume ideas for Halloween 2018, today we want you to gain a new perspective when it comes to this holiday. Thus, we will be focusing on the key factor of a Halloween look: horror makeup. In this article, we will bring you a compilation of several step by step tutorials that will show you how to be terrifying, scary and on point for this day. This videos will also provide new ideas that will surely delight you and scare your friends even more, if possible.
You may be interested in reading the following article:
Ready to be scared to death? Up next horror makeup looks for Halloween 2018.
Zombie Halloween makeup tutorial
Zombie makeup is a very popular choice among people for Halloween 2018. The best part is that, even if you do not think it's easy to put on, doing so it's really easy. You should apply a white makeup all over your face until it's completely covered. You don't need to apply any other makeup in your face nor any kind of lipstic on the lips. Nevertheless, in this video you will see how they give us another option, which is to leave everything pale and white but put more thought into the eyes and draw attention to them.
Like we said, the makeup we are using should draw attention to the eyes in order to create the perfect zombie disguise. You can also think of buying colored contact lenses and putting them on. This can make your costume more believable. If you don't fancy the idea, you can always choose to create dark circles around your eyes by applying dark eyeshadow or to highlight your cheekbones, for instance. This will make your appearance look even more haggard.
Halloween zombie makeup photos
Halloween witch makeup photos
Far from wanting to look like a witch with a green face and a horrid wart, we can now choose a very different and glamorous witch makeup. We can put on green contact lenses and, if we want to go into detail on this one, we can add some bright eyeshadow and wear red lipstic as well.
The Halloween 2018 witches will not go out of style. Take a look at the ones on the video below. Do not forget to mark and outline areas of your face, in particular, areas such as your nose or your eyes.
Halloween witch makeup photos
Halloween Death makeup
Another option for Halloween is to go as Death but don't let it be like every other year. You want the perfect Death constume? Then pay attention to the following section. With this make-up you will turn your simple costume into the best costume yet.
We leave this gallery so that you can see more examples of makeup for your Death costume according to your taste and personality. Don't miss out on the best ideas ever!
Halloween death makeup photos
Halloween catrina makeup- Mexican skull
All Saints' Day is one of the most celebrated traditions in the world, so we are going to give you only the best ideas for catrinas and skulls's make-up.
There are many different types of catrinas, with different colors and shapes. Therefore, in the following gallery you will see all the makeup possibilities in order to make this halloween perfect. You will be center of attention with this costume!
Halloween catrina makeup photos – Mexican skull
Halloween skull makeup
A Halloween skull makeup is a classic that never goes out of style. That's why we want to give you new ideas for the most terrifying night of the year. Your costume will be perfect thanks to the best skull makeup.
You only have to worry about the costume being perfect and not the makeup. Leave the makeup to us and we will teach you and easier way to make your face look like a bunch of bones. Don't forget to click on the next gallery with the latest trends in skull makeup.
Halloween skull makeup photos
Halloween half face makeup
One thing you can do to achieve a unique and mainstream appearance when it comes to our Halloween costume is to put make up only on one half of the face. This contrast will draw other people's attention and you will be the coolest one there.
In the next gallery you have all the ideas to do a half face makeup and have the best costume of the party, you will have all the possible options to achieve the look and style you are looking for.
Halloween half face with makeup photos
Makeup halloween zipper
Another makeup possibility that's easy to make is the Halloween makeup with a zipper. This will definitely make you the centre of attention. The makeup with a zipper is original and can become terrifying if you do it well.
In the next gallery you have all the makeup ideas and the latest trends for Halloween. Both of them combined with your costume can make you the most original costume of the party. Find the style you are looking for. Surely you find it in these pictures.
Halloween makeup with zipper photos
Halloween doll makeup
In order to look like a doll you need to apply the following makeup: use eyeliner to highlight and surround the eye and the mouth. This will make it look like your eyes and mouth were about to move. It will also make you look like a ventriloquist's doll. The red powder will resemble the flush of your cheeks and enhance it. You can also add fake freckles to make believe you are a doll.
Follow the instructions that you will be given in the video. We also recommend that you use a black eyeliner, same as in the picture above, to draw some big eyelashes above and below the eyelids. In doing so, you are going to make your eyes look quite similar to the eyes of a doll. You can add a small white line under the lower eyelid as well, so you know where to draw the false eyelashes.
Halloween doll makeup photos
Halloween broken doll makeup
Now we are going to see the broken doll makeup. This costume is even more popular than the average doll. Why is that? Well, it is scary to think of a doll that comes alive, a doll that's broken and that can attack people while they sleep. This is the thought that we have to convey when it comes to makeup.
You are going to be the most diabolical scary broken doll at the party with the ideas we now will give you. Just pay attention to detail and choose the style and makeup that matches your costume.
Halloween broken doll makeup photos
Halloween corpse bride makeup
If you want to look like a corpse bride, you will only need a black eyeliner to surround your eyes and white powder to cover your face so your skin can look really white and corpse-like. The lips should be coloured in red. Then you can make the detail of the sides with stripes as to give the impression that they have sewn you. This is a makeup that requires you to be aware of how it is done step by step so you can't miss the tutorial.
The corpse bride makeup requires a good makeup foundation in soft blue or white (depending on what you'd rather look like). This can turn out to be a somewhat annoying makeup if you are going to wear it for hours. This is why we highly recommend that you moisturize your skin with a face cream before putting your makeup on in order to keep the foundation on point.
Halloween corpse bride makeup photos
Halloween skeleton makeup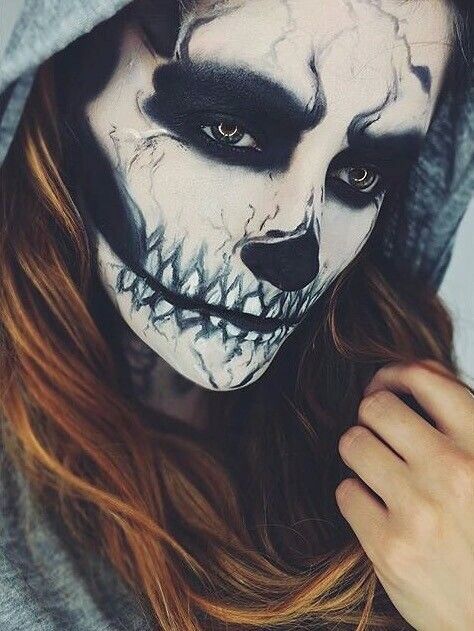 An easy makeup costume that never fails to frighten people and have fun with it is the skeleton. You will have the perfect costume for this important day. Just play attention to the following ideas so you can apply the make up correctly. By doing so, you will discover the best skeleton halloween makeup and you won't have to wear a mask.
In the following gallery you have all the possibilities makeupwise, all the various styles and accesories for skeletons so you can frighten everyone. We guarantee spectacular results. Disguise yourself as a skeleton!
Halloween skeleton makeup photos
Halloween vampire makeup
Vampire makeup is a classic when it comes to Halloween makeup. This video goes into detail and explains how to do your eyes. If you want to give the final touch to your vampire makeup, don't forget to use artificial blood around the area of ​​the lips. People will be under the impression that you just sucked blood from one of your victims.
The makeup foundation should be as white as possible but without exagerating. In ceratin costume stores they sell stick white makeup foundation that you can apply with a makeup sponge or with your fingers so you can apply the makeup evenly. You can also buy it in powders in order to be more natural. Don't forget to apply make up in your neck to make it look more realistic.
Halloween vampire makeup photos
Halloween pumpkin makeup
One of the most famous symbols and most seen on Halloween are pumpkins, so we are going to give you the best pumpkin halloween makeup ideas for your parties.
With these ideas you can turn the typical pumpkin costume into the best constume people have ever seen. You can wear the most original constume thanks to this increible makeup tips. In the following gallery you will be able to see all the different looks that you can wear while being a pumpkin.
Pumpkin halloween makeup photos
Halloween spider makeup
Although the spider makeup is appropriate for Halloween you can also use it for other events or parties. Such as carnival, for example. This makeup is very easy to do and with the advice that we are going to give you, you will see how simple it is and how fast you will achieve the best costume for Halloween.
If you like these images but you want more ideas for your makeup costume, take a look at the following gallery. If you want to surprise everyone you should be aware of all the possibilities you have.
Halloween spider makeup photos
Halloween cat makeup
People will definitely envy your original costume at the party. We are sure you will be the most scary one if you combine a good costume with a good halloween cat makeup. If you do your makeup correctly, you will be the most original and terrifying cat of the party.
To see more examples of possible cat makeup looks and ideas for Halloween and go with the best cat costume ever we leave this gallery of photos.
Halloween cat makeup photos
Halloween saw makeup
One of the most watched horror films of all time is Saw. Surely, many of you want to dress as the most famous and sinister character in the movie, Billy the Puppet. Let's see the relevant Halloween saw makeup.
Simply by recreating the puppet you will be able to transform your face and, therefore, the constume that you will be wearing. Although you might want to ressemble the movie character, you should know there are many styles and ways to disguise yourself. If you want to know all the ideas related to saw makeup you can just click on the gallery.
Halloween saw makeup photos
Halloween devil makeup
One of the most iconic and classic Halloween costumes is the devil. You worry about the disguise and let us worry about the devil makeup. If you dare to try specific materials that will make you the scariest of them all, you will come up with impressive and grotesque characterizations such as big horns or horrid cheekbones. We are going to teach you the best devil makeup for this Halloween.
In this gallery you will be able to see all the devil makeup  possibilities for the most terrifying night of the year.
Halloween devil makeup photos
Halloween wound makeup
Being a scary character is vital for Halloween. The important aspect it's not so much the disguise but the halloween makeup with wounds and today in modaellas.com we are going to show you the best wounds to scare everyone at the Halloween 2018 party.
Do you want to see more examples of wounds on the face and body for the most terrifying night of the year? In the next gallery you have all the ideas that you need.
Halloween wounds makeup photos
Halloween eyes makeup
In halloween it is important to wear a good costume but the difference between your costume and other people's costumes will be the makeup you use and how you do your makeup. Therefore, we want to teach you the most original, modern and beautiful ideas for eye halloween makeup . Because the eyes say a lot, we express many things with them so a good eye makeup will make the difference.
You want to surprise everyone? You want a different look? Here you will find all the ideas related to eyes makeup. Do your eyes makeup in order to make your eyes penetrating. Don't go unoticed. Simply click on the following gallery with every type of eye, every colors and various options.
Halloween eyes makeup photos
Halloween makeup 2018 | View profile
While many people only pay attention to costumes, makeup is essential to complete the perfect Halloween look, so let's show you a makeup guide to complement a vampire costume, a fairy disguise, a ventriloquist doll costume, a zombie costume and a corpse bride makeup and, thus, be able to show different options, some more or less complicated and undoubtedly all ideal for this terrifying celebration.
The first thing you need to know is that any Halloween makeup can be applied with the makeup you have at home although it would be better to use your imagination. In this sense, it will always be convenient to have an extra black or white foundation stick or eye shadows of all kinds. It is an investment that can last for a very long time and you will get much more out of it every time you need makeup for Halloween.
Halloween fairy makeup 2018
The pink and blue tones will be best to do your eyes make up in case you choose a fairy makeup like this. You also can not miss out on something «glitter» or glitter, as well as different bright shadows and shiny details, to give a much more magical touch to your fairy look.
The eyes are key when it comes to doing your makeup like a fairy. This glittery makeup for the eyes can help you recreate the looks of a fairy. You can out as much glitter as you want but don't forget tadding the final touch in the area of ​​the mouth. In the video below we can see how the girl puts on a striking and bright pink lipstic, and also also apply many powders to mark and highlight the cheekbones and, overall, enhance the makeup.
Halloween mime of terror makeup 2018
This one is an easy makeup and also very beautiful. The white face is essential to know how to do the eyes in detail in black, and also adds a few lines so that you can look like a sad mime.
Halloween horror makeup photos 2018
Halloween Makeup for Kids
How can we disguise our children on the most terrifying night of the year? We have to take into account that for a costume to be complete it is necessary to wear a good makeup. Same goes to our children.
This party consists on scarying the other children «to death». But first we have to choose which character we want our kids to be disguised as, in order to frighten the others.
The disguises that children like the most are ghosts, witches, skeletons, zombies … With the following ideas we will now give you, you will find the most original and scary makeup .
Halloween witch makeup for little girls
One of the children's favorite constumes is a witch costume, but how can we make up our daughters ressemble the original? We are going to give you the best tricks to get the best results.
The colder the witch is, the better we recommend that you use a black eyeliner to paint the dark circles, the shadow of the eyes and the edges sides of the nose. On a final note, you should be aware that the small details make the difference, so you can go ahead and paint a tooth black and paint the lips with a very dark purple color.
Halloween skeleton makeup for children
The skeleton and skull costume is one of the most requested by children, as it is fun to look dead. The first step in order to do the best makeup is to cover the entire face with white foundation.
With a black eyeliner you can surround the eyes, but in the shape of a square so as to make believe that there is a hole and not eyes. You can also draw the nose edges and some teeth at the bottom of the mouth. In doing so, you will get the effect of skull that, combined with a good costume, will become a complete skeleton.
Halloween makeup dead girl
The key to get the perfect look and ressemble a dead girl is to have very good makeup on. All you have to do is do your daughter's makeup and  make her face look very pale and highlight the factions.
To mark the factions it is best to use a black eyeliner and highlight the eyes, nose and mouth's corners and edges. Aside of painting the lips, you can also paint teeth up and down the mouth.
Halloween zombie makeup for kids
A classic that can't be forgotten at any Halloween party is the zombie costume. It doesn't matter if it is for us or for our children, the trick to a good costume is the makeup.
We have to draw many dark circles. The color depends on what we'd rather wear but we recommend that the circles are in black or red. Same goes to the lips, they can either be purple or black.
You might be interested in the following article: